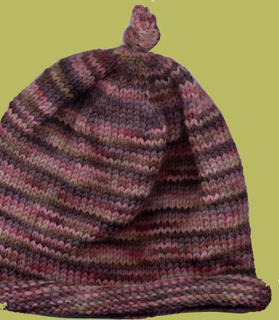 Darn, I really was resolved to not craft on the road, so I didn't bring any needles. It only took me 4 days to lust after a project to have in hand. I found this store"
Black Sheep Yarn & Knitting Machines
222 N. Binkley St.
Soldotna, AK 99669
And, a cute little store it was. I could tell just by peering in the window. I went back and admired the other crafts such as stained glass and FO (finished objects). I got some real wool yarn, which is scarce in Honolulu and some double pointed needles and cast on 99 stitches with size 7 needles, knit for 7 inches then started decreasing. K7 K2tog around, K next row, K6 K2tog around and so fourth until I couldn't knit any more on the double pointed needles. Then I had to get home before finishing the hat with the roll brim and knot on top. Mindless! I may have enough yarn to knit the matching gauntlets :)
BTW, to finish, I kept decreasing around until I had 8 stitches left and kept knitting around until it was long enough to tie in a knot, aboug 4 inches. It can also be finished using the I-cord technique.