Thanks to all who left comments on my Blogiversary.
Here is the sorry state of my April
Project Spectrum
yarn stash, unless I want to count a couple of leftovers. The Softball cotton was purchased on sale at Liberty House, Ala Moana, which dates this yarn circa 1979. I made several tops from this yarn in different colors and they wore well. I'm not sure what I will make with this yellow, but I have some black, too, so it sure sounds like Bumble Bee something. Boy I miss Liberty House. I spent many a hour browsing the yarn department years ago petting all that sock yarn.
Huckleberry Farms, a local grocer, had some really nice butternut squash. It looked so nice and yellow with carrots in this very hot squash curry. I think I'll try
Ms. Lolly's butternut squash soup
next time.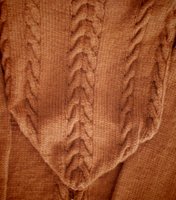 And look, The hood of a nearly finished
Bpt
!! Here it is drying. Let's see, since the ambient humidity today is 50-100%, it could take up to 3 days to dry, if I'm lucky. Then I have to measure and find a zipper to install. I enjoyed knitting this sweater and only had an urge to bolt 1/2 through sleeve one. Cascade 220 Superwash was a joy to knit with in color 828 on size 8 aluminum needles. I could not get a decent picture of the color. Once again I knit a sweater with a very "comfortable" fit. I have short arms and was not able to make all the decreases before I had to stop. If I knit it again, I'll decrease every 5 rows. It is really cool the way the cables come together and split in the armhole. I tried the 3 needle cast off on the hood, but undid it and grafted instead as some others recommended and liked it much better.
I got my first squeeze of Knit Picks in person, thanks to
Chris
. Feels very nice:) Now, what to knit next?