The second spray of my orchid plant opened up and is much more glorious then the first. And here is
Daisy
drying. I am packing up my craft room to have it remodeled and can't find a single button. Wow, a reason to shop:)
I still need a zipper for my BPT, too.
Meanwhile, my order from
Four Seasons Knitting Products
came. Lovely, lovely, squishy Koigu. I'm in love! (and so is Totoro!) I wanted a solid for
Cascading Leaves
. And the blue? I just had to have it. I got a bit of a scare on my first time ordering from Four Seasons when I didn't hear from them, but the owner was away! She even expedited the shipping for me when she returned.
I experimented with cel phone picture sent to Flickr. Ain't technology grand? It's a good example of why more pixels are better! I had to adjust the color since the flower was a very yellow hibiscus.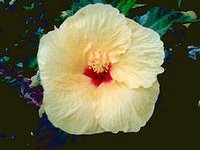 I miss decorating Easter Eggs with the kids, since they are kids no more. Have a nice Sunday everyone, on this the last of the "chocolate" holidays until Halloween!
Ooh I almost forgot. My mini sushi stitch markers from
Amyville
arrived. I ordered them after
mkcarroll
illustrious designer of
The Womb
showed me hers. They are just so cute!