I searched all over my book closet for my origami books and the Internet looking for a cute dog for
My Little Mochi's
postcard swap, but to no avail. All the dogs I found were not to my liking. So, what with postage going up in few days, I decided I should send a few holiday greetings, thank you notes, pay a few bills and try to whip up those last few late gifts. This proved a bit tough as I got hit with a virus and my head felt like it was going to explode.
I found some great templates at
Mirkwood Designs
and a
origami card
on
this card making site.
. And this is what I came up with.
I was introduced to rubber stamping by a very lovely lady who really taught me a lot about generosity and kindness. She is one of my heros. I needed a few more stamping classes, though, but I keep a few stamps and a very small collection of inks, papers and such as well as my origami paper from my short attempts at making paper dolls from chiyogami paper. The Japanese make wonderful paper.
AITOH Co.
lists quite few different types. I was gifted this card which I so love because of all the detail and great colors.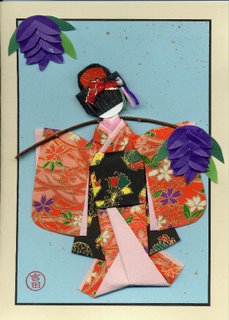 Another craft I might take some classes in one of thest days.
BTW,
Turner Classic Movies
is playing several of
Hayao Miyazaki's
films this week. His full length animated movies include My Neighbor Totoro, and many others. The films have be purchased by Disney and many have been released in the USA with dubbed and subbed versions.