While talking to my sister this morning I glanced out on the patio and noticed some flowers blooming. My plants have to be hearty and self sufficent and so when they bloom I'm really very happy:)
On the knitting front, I am into the second ball of my Fisherman's sweater. The color doesn't photograph well at all. The color is a very dark green, so the seed stitch pattern is more of a stealth pattern. It is fun to do, though. I have been reflecting on my color choices. Am I turning into my grandma? I asked once what color she would like and she said (Japanese accent) "Gu-ray, goo-ru caw-ra." I'm contemplating a lighter color for my next cardigan/pullover project.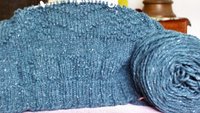 I went to Yarn and Friend's yesterday in search of sturdier needles to make this sweater and also to pet some yarn. There was quite a crowd there. When I got home the mailman brought me Modular Knits.
Lots of fun projects in there.