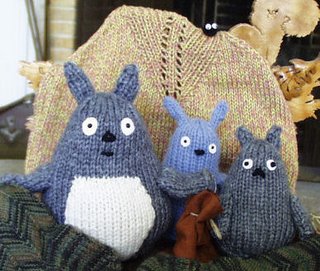 I finished two more Totoros. My son felt the old style ears I was making as on the blue Totoro were "devil ears" so I made them a bit more like long cat ears. I only had big eyes for the dust bunny so it always falls down eyes first...Youch!
More pink and red flowers. The weird one in the lovely shade of pink is a flowering banana.
The halter is made from the nice cotton silk from JennieB of Aloha Knitters. My finished Jaywalkers in Lorna's Laces superwash sock yarn fit great. The table cloth was edged on the handy dandy serger with Decor 6 in red. I found the yardage while in the process of packing up my craft room to remodel it into a guest room. Boy those aerial shots make my legs look stumpy.
I thank
Chris
for showing me how to "throw". I am practicing my two color knitting and as the picture shows learning the tension is going to take a lot of practice. I also have to get to the chapter about how to bridge the long color changes.