I went to the Big Island, Hawaii for a meeting, R&S (rest and shopping) and to visit a friend who moved there 6 months ago.
My son asked me what I learned at the meeting and I drew a blank for a seconds. I did learn that
Petadolex
(Butterbur) is good for migraines, whereas Feverfew may not work, although I know someone who swears by it.
I managed to miss the torrential downpours on Oahu and the closing of the Kailua bound lanes of the Pali Highway, which is how I get to work.
I have one finished object,
DNA scarf
, shown here drying, knit from Rowan's Cashoff, a very soft and buttery experience.
I have two UFOs, Jaywalkers in Lorna's Laces camoflague, and Totoros, still earless and and eyeless. The Jaywalkers are fraternal, but I okay with that.
While knitting the Jaywalkers, I noticed the size one Brittany's gradually bent and then one cracked. So of course I was forced to visit a very wonderful yarn shop in Hilo and purchase size one Addi Turbos from Big Island Bernina, Yarn Basket.
I also have two future projects, blue socks and Cascade 200 Superwash for Rogue. The Cascade had just come in and she had only 5 colors. It was a toss up between the rust and the blue so I went with the rust cuz I'm trying to break away from blue.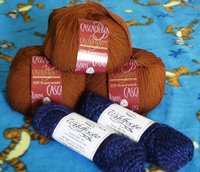 Hilo had some wonderful food. I missed the Two Ladies Kitchen mochi as they were closed, but had fun eating tamales at the Farm fair, and loved the smells from the Pahala sweatbread bakery. The taro, kalua pig hash was very tasty. The weather cooperated on the drive through Volcano National park. One of the most interesting snacks I bought and hope to get up the courage to eat was chocolate dipped ika (squid!!) at the Big Island Candy Company. It reminded me of the Eel Ice Cream from an Iron Chef episode. I believe the comments were...."interesting".