Cameron's Hat
Pattern by Sarah Peasley.
After finding two knots in the first 2 inches of knitting, there were no more knots. I knit the band up instead of sewing it up at the end, left off the i-cord top knot, and it seemed to work out just fine. Lana Grossa Cool Wool Big on size 6 needles worked out perfect for the hat. It is very cushy, and superwash. I used about 1.25 balls of black and a fractions of the rust. I haven't washed it yet.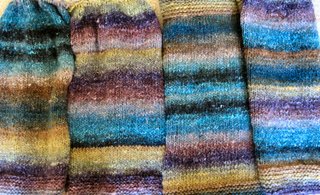 Klaralund
in Noro Silk Garden color 244 progress-two backs done and 13 inches of sleeves (on the left). As always, the color changes are surprises! I'm not sure how long to make the sleeves.
Rogue is in a holding patten. Just too hot here to get inspired.
I'm still trying to figure out what pattern to use for my medium weight STR Lemongrass.
At the Aloha Knitter's the other night Sarah was crocheting a purse and also had another one she was using that was too cute. I don't know if she has picture of her's up anywhere, but I found this one:
Fat-Bottom Bag
from Debbie Stoller's Happy Hooker. Makes me want to whip out a crochet hook!