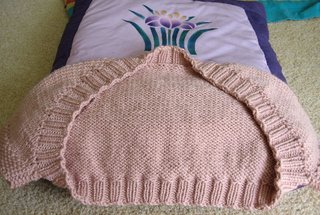 One Skein Wonder
in Debbie Bliss Cashmerino Aran dusty pink. Actually a two skein wonder. Very wonderful nice soft yarn. The sizing on this pattern is tricky. I made the smallest size for my niece, but well, I had to move it up 3 sizes and it's still pretty tiny. I'm counting on the stretchability. I think I'll make a few more of these babies. They really fill that immediate gratification need.
I talked my self out of going out shopping for more things I don't need. (I really want a George Foreman Grill since I heard it can go in the dishwasher!) Okay well I confess, I shopped on line for some Berocco Chincilla, closing out at
Kyarns
to make a bunny and a bear. And oh well, I added on a couple skeins of the Lana Grossa Cool Wool always aspiring to make a hat that an actual boy/man will wear.
But other then that I had a productive day in the jewelry-making department.
A little late, there are some Stars and Stripes stitch markers, some earrings and bracelet from the ruby beads a friend gave me, and a bunch of purple bracelets, stash-busting and to celebrate The Fabulous and Inspiring Miz Lolly's
Project Spectrum Purple Month
Alas the purple did not scan well.
I frogged my Watermelon Dublin Bay sock and have turned the heel on the redo on 60 stitches instead of 72. The colors are lined up in a whole new way with some very interesting pooling. I'll take a picture when more of it is done.