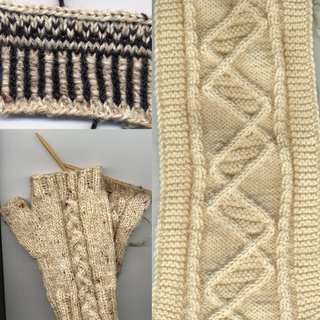 I feel like I'm treading water between projects. My DNA scarf is progressing slowly. I have had to frog back 3 times. I'm using Rowan Cashoff and it feels very wonderful but is very delicate to knit with, like cooked spaghetti that is a bit splitty. After throwing the Beaverslide around it is quite a change.
I attended an Aloha Knitters meeting. 3 others showed up and Jennie had a huge bag of orphan yarns from her stash. I was greedy and grabbed a bunch, including the Smart Superwash Wool in the wheaty tweed. I tried a swatch on
hello yarn's
mittens with some black I had, but the gauges and textures of the yarns were too different and I guess I'll have to learn to knit two-stranded technique once I find more suitable yarns. I have some ancient silk that might work although the colors are a bit strange.
The yarn looks nice as
Kimberly's
Fingerless Mittens. The cables are fun to do. The gusset instructions were cool. They came out a bit baggy around the wrists, but a good soak should help.
The Beaverslide version of
Halley's Comet Hat
was a fun knit, too! I have one skein left.
Meanwhile, I'm in a quandry over the socks. I want to do Jaywalker's but I don't know the exact size recipient of the blues feet and from what I read, Jaywalker's have to be knit to fit, so maybe I'll wait for my Sunshine watermelon yarn and make them for me. But, I also have read that self-striping yarn is not the best for Jaywalkers. The other yarn I have is the Lorna's Laces camoflague. It looks scarily like a size 1 needle yarn. The strange bargain yarn I got in black and red might work for socks, too, but then I'd have to swatch;)
And, hey, Spring is coming. Time to knit a bunny.
Update: Final
Fingerless Mitts ala Kimberlolly