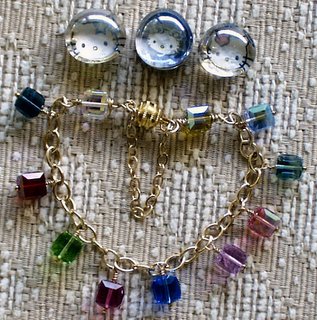 Big sister turns 60 this year and although I won't be making it up to Tacoma for the festivities I have to think of something to make for her. She wanted a sparkly colored Swarovski cube bracelet, so I made one with a magnet like she likes and a guard chain as those magnets are risky. Now how to get good pictures of crystals? I tried scanning but any light source gets reflected and the colors don't show up well. Natural light is the best so far.
She also loves Hello Kitty and last time we were in China town I bought a bunch of Hello Kitty stickers. Why? Retail Therapy ala
knitbrarian
is a good guess. I was fascinated by the
glass marble magnets
on
Crafster Forum
and the small sticker just fit. Now I'm obsessed with finding a 1/2 inch paper punch.
And so it goes.