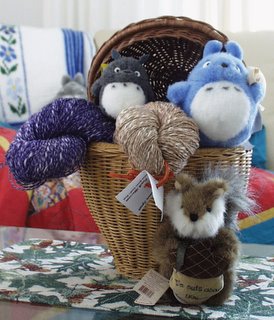 Totoro's got together with their new friend to help me thank
Kimberly
for the surprise all the way from the cold country. In the box were two skeins of Summer Spun from Farmhouse Yarns (421 Sound Dr., Mt. Desert, ME 04660) in Peach Blossom and Brilliant Violet. Along for the ride was the cutest little fellow and his acorn proclaiming, "I'm Nuts about You". So cute and so thoughtful. Thank you, Kimberly. You made my day!
On the knitting front....
Jaywalker blues a bust. The white contrasted too much with the blues and made an unsightly looking half stitch. And, I found the long size one needles too long. I'll wait until my order comes for the shorter ones.
DNA scarf is 3/4 through the 12 inch ribbing section. I think knitting with the size 1 needles helped me with the problem I was having with the Rowan Cashoff and I understand the pattern better. This project is going great guns!
Sitting in my book closet going through my patterns for the Summer Spun:)
The Iowa niece/nephew got stuck due to snow in Milwaukee, so maybe I can make something before they get here, if they make it out. I'll keep my fingers crossed for them, or they'll spend their break in North Dakota (Brrrrrr!)