I am thankful to Leia's cousins who allowed me to photograph the
Leia
hat. I used a little over two skeins of Plymouth Yukon, the only bulky yarn I could find. I ended up casting on 60 stitches instead of the 66. This made for a very warm head cover. May the force be with you!
Socktober socks are at least started in Koigu using Conway from Nancy Bush's Knitting on the Road. I like my socks shorter, so I started after the calf shaping with 60 stitches, and started two with magic loop in hopes of actually finishing two by the end of this month. The color did not photograph well. The ever Fabulous
Ms. Lolly
interviewed Nancy Bush for the Socktober festivities.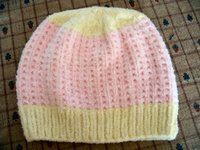 I finished a ChemoHat using
Inside out Hat
from Head Huggers in Plymouth Oh My. This is a very soft yarn but it shed a lot while I was knitting it and the ends came apart like serger tails do before I finished the hat. I sewed them in so I hope they hold.
The
Hawaii International Film Festival
starts tomorrow for me. I have tickets to 7 filmings over the next week, but may attend more. I hope to do some knitting in between movies.