Broadripple sock number two is a little over half done. I must say, I love the Koigu KPPPM. It is so springy and durable, but then maybe I mentioned that already. This colorway did not stripe much and bring out the patterns chevrons, but I do like it anyway.
Did you every have a yarn that just didn't know what it wanted to be when it grew up? My sister gave me 3 balls of Inca Tops 50% Alpaca silk yarn as it did not sing to her . I tried knitting a scarf when I first got it, and then the fingerless cabled gloves in Holiday Knits. It didn't want to be any of those. The latest effort is
Twosheep's
helix scarf. This yarn really feels wonderful. It is very soft, but I think it is too drapey to show off the double helix pattern well. I did discover that the K1P1 seed stitch looks nice. Maybe a plain, daintier version of Seaman's scarf is what it wants to be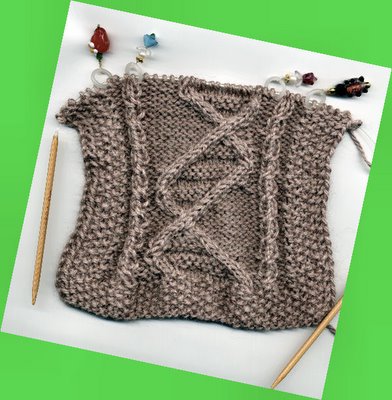 I ordered some yarn sight unseen to knit Rogue. Scary!
It is a cool, sunny, dry winter so far. The vog is pretty thick somedays. Venus and Mars are putting on quite a show in the sky. It's a good year for avocados and citrus. Guacamole anyone?