The instructions in this pattern say to full the pieces slightly by washing then drying the parts for 5-10 minutes on low heat. It doesn't say whether to weave in the ends first. It doesn't say what temperature water should be, or what kind of soap to use. I have never felted anything but I was encouraged by the 50% angora content of this yarn (I hope no bunnies were injured in the production)to go for it since angora does not felt, and just pray I didn't end up with a munchkin size sweater or the lint ball that ate Puunui.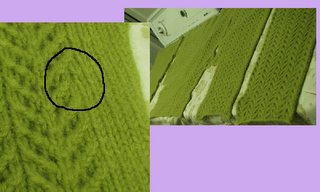 Here the pieces are all laid out. I spied the error in sleeve number two, after the fulling process. I decided I would have to leave it. I just hope everything dries in this humid time of year. I'm beginning to dread the collar/neckline.
Knowing me, I'll be pointing out that error to everyone. So there it is! Right out in public.