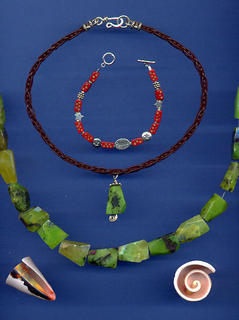 The plan to purge stash and not acquire stash fell my the wayside, but the damage was not too bad, heh. Luckily for me, my partner in crime was on a time table so I only had a 1 1/2 hours.
The red "dice" beads I got from Silk Winds, and I quickly made the bracelet with charms I had, just to see how they would look. I'll wear it for awile since I miss the Peace I had to remove from my Mantra Bracelet. The beads are vintage trade beads, which I so dearly love.
I got the big honking shells because they were so pretty and I have a whole spool of brown leather cord they will hang well on.
I grabbed the turquoise nuggets because the color variations were so cool. I hung one on the Kumahimo leather cord I made at the Bead Gallery class I had. It is a rather short piece. Hmmm, I think I'll make some more of those cords.
The rest of the purchases were findings...ear wires, toggles.
There were some very yummy lampwork beads. I've considered learning to make them, but it requires fire. Ever since I set my hair on fire with that candle at the midnight Christmas candle service I've avoided fire, unless it's in the hibachi or Weber. Luckily the incident did not go as far as the Michael Jackson incident, but it was scary enough!