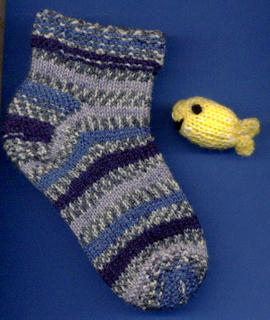 Looks like a sock. Smells like a sock. Should be a sock, or anklet, I should say. Paton's Denim Kroy. Destined to be an only sock. I ventured into the sock world after seeing the wonderful and amazing self striping yarn. Well no, I didn't make a gauge square. Now I have pretty small feet, but this sock wouldn't fit an oompaloompa.
Knitting Noro Silk Garden spoiled me. The number 2 needles are so tiny.
But hey, that's a d*mn fine fish!